Went out on our favourite lake this Saturday in the hopes of snagging some momma/pappa bass but without success. We had a couple of takes as we got there but a storm front knocked all the bass stone-cold regardless of what we flipped, pitched or cast at them. We managed a few small perch and one bluegill before making for shore as fast as we could to avoid some serious lightning approaching us.
On the way back i was passing a a weed edge and decided to throw my Ratt-L-Trap across it and make a quick retrieve when a 6.11 lb Pickerel hit it like a steam locomotive and gave me a nice fight punctuated by some heart-pounding aquabatics. It's my new pickerel record and definitely will not complain about being bass-skunked for the day.
Since the storm seemed to promise a few hours of violence we decided to call it quits and head for home.
P.S TD: I'm sure Nicole and I will be back in Utah next November for some Walleye sport. We'll talk about it more as the time gets closer. And don't be shy to ask for any illustrations for your book if needed.
Storm moves in
The wife's pretty perch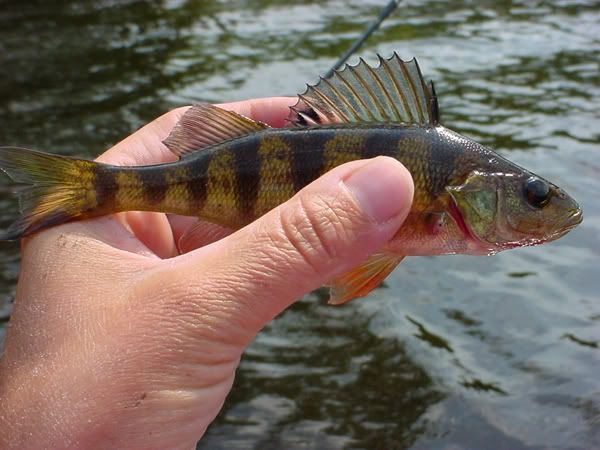 The Loch Ness Pickerel
-ABT-