I've found myself not being able to go fishing as much as I would like. With the past storms bombarding the western slope it proved hard to find time to dedicate to a day trip. Plus with the added pressures of work and planning a wedding with my fiancé…well let's just say time has been scarce.
However, I did find time and solidarity in Black Canyon. This canyon is incredible, and completely worthy of being bestowed the honor of National Park. I highly encourage everyone to come take a gander. Your breath will leave you as you see these sheer cliffs plummet to the river below. Looking from above the angler's mind is filled with dreams of the monsters that lay in the untamed Gunnison below.
Luckily for us anglers, there is a road that transcends the canyon, but be warned no trailers or long vehicles. It's quite the brake burner, but the potential for amazing fish is well worth it in my opinion. This was my first fishing trip to the area and I must admit the river had me drooling. I cannot wait for future trips where I can actually hike into the rugged canyon.
I was blessed to be one of two fishermen on the river this day. Perhaps the looming roar of thunder kept others out. It took me some time to figure out how these fish wanted their demise presented to them, but once I figured out their preferred technique the fishing was constant.
The water is crystal clear as it flows from Crystal Reservoir's dam (the name seems to fit). Also, the river is VERY deep in this short tailwater. I'm sure the rapids pick up as one travels further into the canyon. There was some moving water where I chose to fish, but many deep slow moving pools. The LCs, Rapalas, and HDs would shine today.
First fish to hand was a rainbow. I was pleasantly surprised by the color; little did I know what awaited me.
I wish I could emphasize enough what a perfect fishery this appears to be. Fish were rising everywhere, and one could even see larger browns cruising some of the slow moving banks. I recently visited one of the many fly shops in Montrose, and was shown a picture of a 29" bow supposedly taken from this stretch of river. There are monsters to be had here, but today they evaded me. However, I did find pleasure in bringing some browns to hand.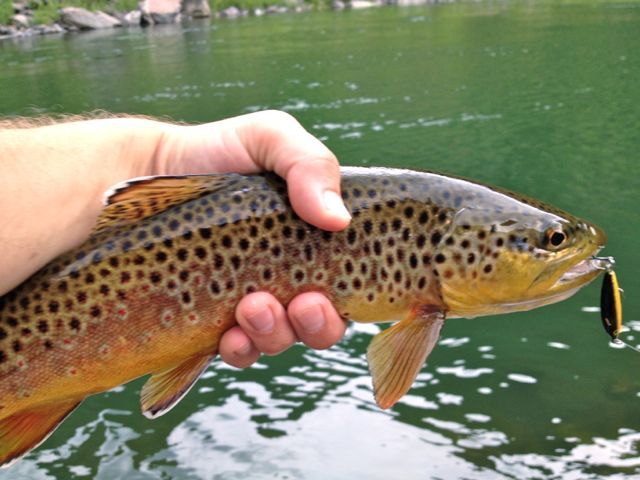 Purddy lil' thing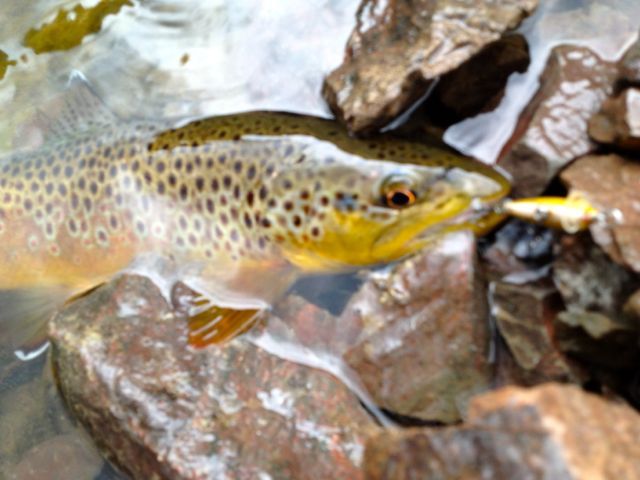 Throwing the small countdown rapala proved to bring the most fish this trip. I was fishing in the middle of the day and there just seemed to be more small fish around. I need to plan a trip where I throw big toys for the big boys, but the browns were pretty enjoyable.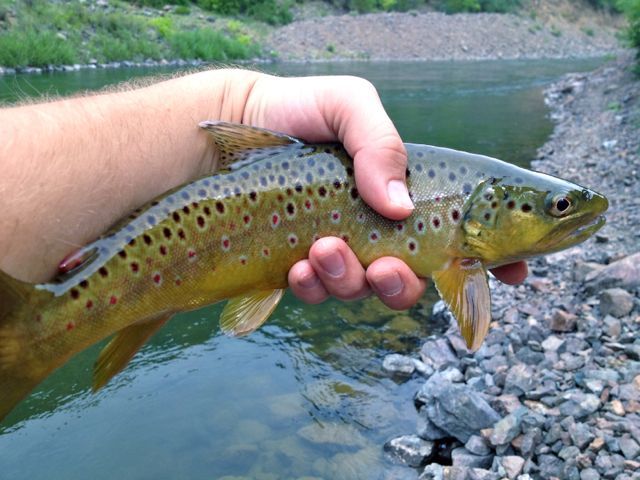 As dusk approached I switched lures and started throwing my trusty 78pointer. The fished seemed to completely disregard the thing, so I started changing up my technique once again.
I started jerking the lure wildly and letting it drift. I was trying to imitate something dying. Tourists from Texas pulled up next to me and watched me. They looked at me like I was an idiot…jerking wildly. I'm sure I looked rather ridiculous, but hey I had tried everything else.
I whispered a small prayer that came out like this "Lord don't let me look completely stupid". On the next cast I finally connected with something. Never hurts to pray for fish right ;)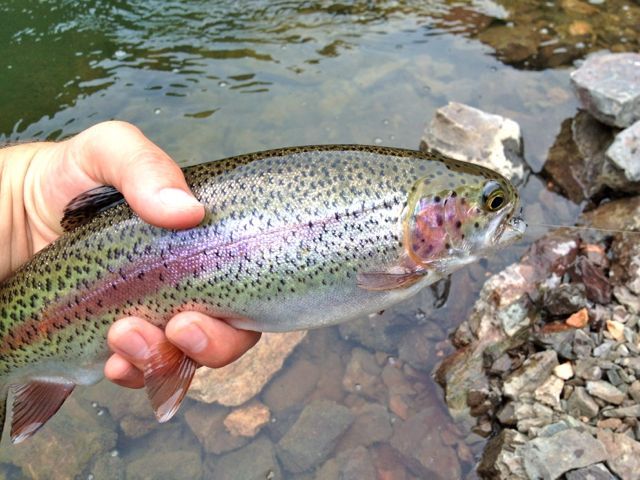 Chubby thing.
I must have hit a lucky break with the lucky craft cuz suddenly the rainbows were all over me.
As I neared the end of my trip, I hooked into one final fish. This one felt like a quality fish. I knew it wasn't a monster, but it felt a little heftier. As I brought near, I saw that red stripe down the side of my adversary. I knew instantly this fish was beautiful and a cut above the rest.
I was blown away as I brought this fish to hand. This is perhaps the most colorfully vibrant fish I have ever been given the honor to catch. I hope you can appreciate its beauty.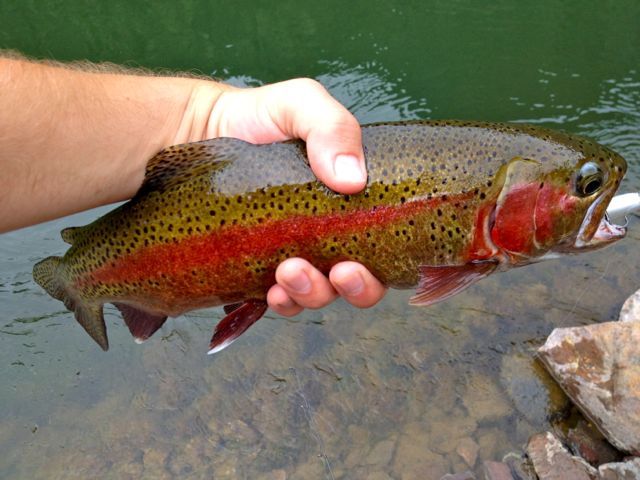 Gotta get a double take :D
Black Canyon is such a majestic place. Fishing within her walls was such a privilege. I truly cannot wait to be reunited with the Gunnison and explore her waters more. There is such ample opportunity to fish here. I am truly a blessed man.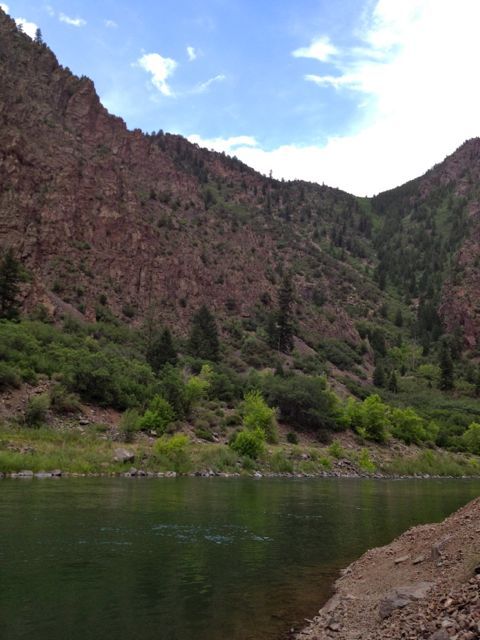 Life is short, thus we should live it well.