I got my new ride so I took it sturgeon fishing
Everyone knows I had a problem with my last pontoon. Outcast was great and sent me a replacement frame. The problem is I needed a ride that I could use my outboard with to get to sturgeon holes. Well I got my new ride on Tuesday. It is a Skookum Steelheader 10 foot. This is a LOT bigger boat than a regular Pontoon. This one is white water rated to a level I will never find out. It has a 1000 pound load capacity which might come in handy for hunting. It has 20" x 10'3" pontoons that are made from 5500 denier PVC covered cloth. Most pontoons are only 500-to 1000 denier PVC covered cloth. The Pontoons have two compartments on each side. A little added safety in case something goes terribly wrong.
It came with a standing platform and a platform on the floor of the spot to carry coolers. I had them add a motor mount that will handle up to 5 HP outboard. Speaking of frames. This one is made from 1 ¼" galvanized steel pipe. This frame is strong.
After unloading the boat into the water I took off with the oars. The whole area is weedy and shallow. This boat tracks well and is very easy to row. It rides very high on the water and the seat is way up there. Speaking of seat. I was worried about the height of the seat. What I did was after riding into the hole on the swivel base seat I moved down and sat on the foot deck. I was able to kick with no problems. Handling a sturgeon should be no problem at all, in this boat.
Over all this Cataraft is a lot heavier than a smaller fly fishing style Pontoon. But I was not looking for something ultra light weight like a corvette. I wanted a a Humvee type of a Cat.
I got to the hole and started to fish. I saw one jump at 7:30 and another one jumped at 9:30. Then I saw one on my fish finder. I did get one hit but no hookup. Well there is always another day. Here are some pictures.
I got it put together and started to pimp it. In this next picture shows the fish finder and the front end of the boat.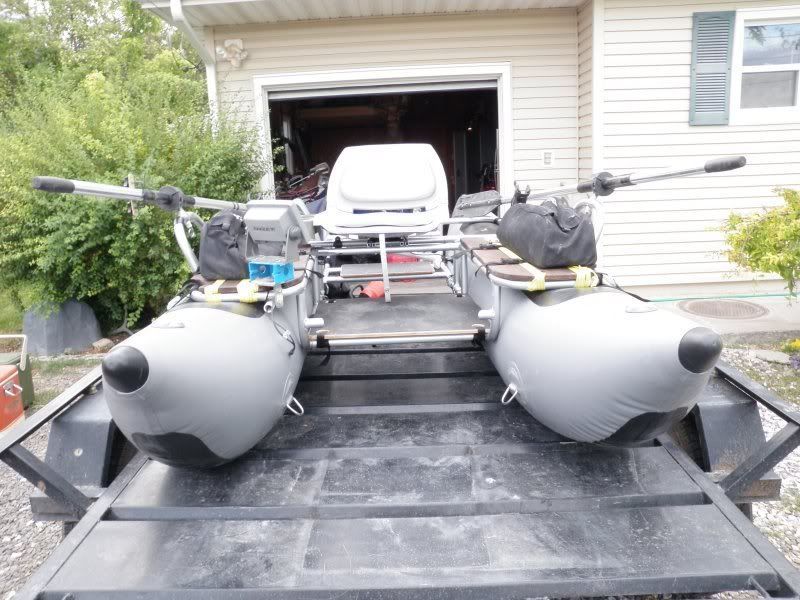 In this next one it shows the cockpit area. I added side boards, rod holders, and the fish finder.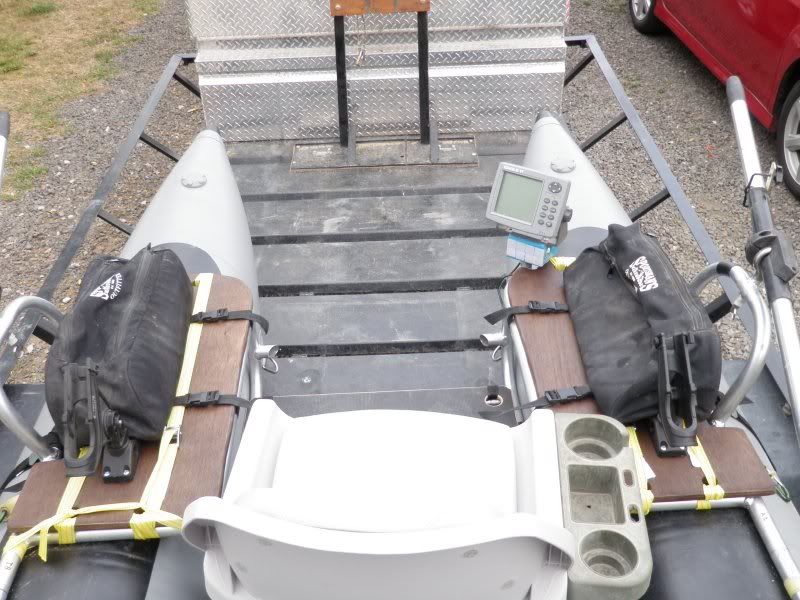 This next picture shows the transducer mount. I used a saddle clamp for this one.
here are the pictures from the sturgeon hole. Ron