An EPIC Day of White Bassin' UL 8/6/12
Well, the kids and I had a stellar day on Utah Lake on Monday evening. I live about a 10-minute drive from Provo Boat Harbor, so when Monday's August afternoon temperature seemed extra unbearable, the kids seemed happy to accompany me down to the lake.
We launched the boat, pulled out of PBH, made a quick left turn, and settled in among a number of boats that had been anchored near the outflow of the Provo River, near the rock jetty. As my kids wanted to swim, I kept a polite distance from the nearest boat and let my kids splash and play among the reeds in the shallower water to the south.
I watched while a few of the boats around me caught one white bass after another, while I continued bite-free. But I enjoyed watching the kids swim and enjoy themselves. (I'm sure their swimming had something do to with my lack of success, or so I thought.)
After awhile, I saw a few of the boats pull up anchor and move off. I had noticed that many of the fish being caught by a number of anglers from boats had all been caught in a certain space of water. When the anglers in the boats casted out of one side of their boats, they caught nothing, but when they all casted in this general area I had pinpointed, they seemed to hook up.
So after waiting until all the boats had left, I pulled up anchors and motored over at my slowest speed and anchored near the area where I'd noticed all the white bass being caught. Well, my first cast resulted in a double hook-up on my tandem jigs. By my count, I went over twenty consecutive casts with fish on, with many of them being doubles.
I'd left my kids swimming in the reeds. When they witnessed me pulling in so many fish and after hearing my shouts, prodding them to join me, they swam over, and climbed aboard. My kids then began to catch whities for well over an hour, non-stop. If you can believe it, they actually got tired of catching fish, so they began swimming again. I thought this would cause the large school of white bass to vacate, but it didn't!
My oldest son (15) and I continued to catch fish after fish, reeling in white bass in and around my swimming younger kids. It was wild!
The whities bit everything we threw at them. I was casting small, brightly colored curly tail jigs on weighted Gamakatsu lead-head hooks. And my oldest son pitched a small white Rapala crankbait.
After swimming for awhile, my second oldest son began wade-fishing, throwing tandem jigs similar to mine. There were times when with my second son's two jigs, my two jigs, and my oldest son's crankbait, we reeled in five fish at a time! It was mind-blowing!
And one of the best parts was, nearly all the fish were decent sized. We kept almost 40 of the fish, and we had to just shake our heads when releasing (unharmed back into the water) white bass certainly hefty and long enough to take home to the filleting board. I know we released dozens and dozens of white bass pushing a foot in length.
Anyway, the only negative to the day was I didn't have my camera with me on the boat. We thought we better snap one pic on the front lawn though, to help preserve the memory.
Here are my incredibly handsome and beautiful children (I'm biased) with a very small portion of our catch.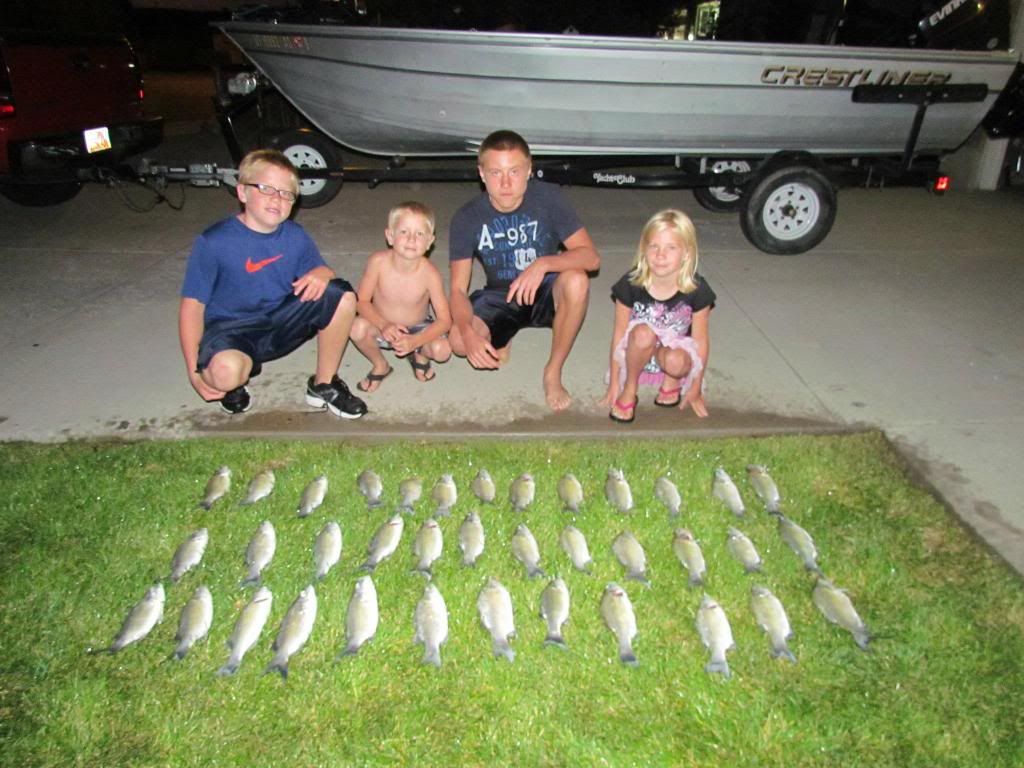 By our reckoning, we believe we caught something close to 125-150 hefty whities in about two hours' time.
It took me nearly that same amount of time (two hours) to fillet all those fishes. The next day, I laid all their fillets on thick aluminum foil in a bath of chicken stock, a splash of white wine, melted butter, juices of lemon and lime, and mixed seasonings on the backyard grill.
Once done, the poached fillets shared a plate of rice and steamed vegetables. The kids and I ate like kings (or Princes, at it were). The meal was beyond heavenly.