A friend and I fished Starvation today. We started at Indian Bay in an area where we found perch last winter. I fished off the point at the end of the Indian Bay camping loop. We drilled about 25 holes in water between 32 and 60 feet deep and we just couldn't find any perch where we caught them last January.
My friend caught one small rainbow and we decided to move while we still had part of the day left. We saw one other group of three guys who were fishing near where we parked our vehicles. I saw them catch at least one rainbow as we were moving. I think it was SLIMER and his friends.
We went over to the boat ramp below the Camperworld campground and we walked to the area south of the bridge. The ice is 7 inches and very clear and hard. It's kind of scary because the ice is so clear you would think it was only an inch thick. The surface has some frost and a little snow but there are some very slick areas of ice, so cleats are a must!
I caught four nice Starvation Steelhead that were about 17 to 18 inches and fat. They came home with me to be introduced to my Masterbuilt smoker......tasty!
The whole lake appears capped with ice but there are some pressure ridges out on the main lake. There is also a small area of open water directly north of the main State Park boat ramp. I believe the small patch of open water is being kept open by the hundreds of ducks and geese trying to avoid flying south like the rest of their friends.
Remember that the State Park is charging entrance fees during the winter, so pay your fee or buy an annual pass which is a bargain if you use the State Parks very often like we do.
Someone get over there and find the perch and let the rest of us know where they are. I've heard the gill net results by the DWR fisheries guys were not great for perch but I know there are still good numbers of 9 to 13 inch perch somewhere in that lake.
Use caution on the early season ice. Good luck and I expect to hear from the rest of you Starvation regulars.
No pictures this time. Everyone knows what a fat, 18 inch Starvation Steelhead looks like.
OK, one photo.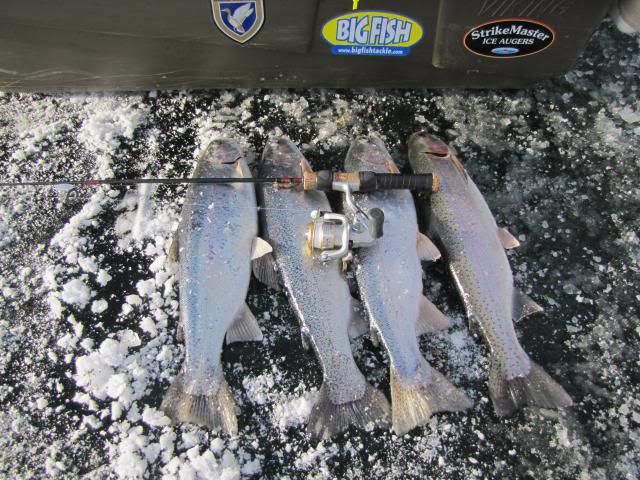 Mike
"Fish TopH2O and your skill will surface!"