Fishing Story
You Don't Always Get What You Want

By Steve vonBrandt/S&K Guide Service
You don't always get what you want, but you get what you need?
While pre-fishing for a tournament at Bull Schoals Lake in Missouri, we had some of the strangest things happen to us in three days there, than at any other lake we had ever been to then or since.
Now don't get me wrong, we love Missouri, but this tournament and the things that happened were a nightmare. We started our drive from Delaware in 1998, (we decided to go in March), and we stopped at a gas station in Ohio, and not having that much experience with our trailer and new truck yet, and the excitement of the Big Bass World Championship coming up at Table Rock Lake, later that year, momentarily clouded my perception, and we clipped the side of the pumps and tore out the side and the whole fender had to be taken off. We arrived at some cabins near Bull Schoals, and low and behold the water was down, I mean REALLY DOWN! We checked in and launched the boat. The mud was so soft that we got stuck while it started to snow. It was freezing the whole time but we made the best of it. The following morning, at 36 degrees, and a good wind, we left the lodge at 8 am. The motor ran for about 45 seconds and quit! We started it up again, several times in the next 2 hours, but finally 100 spouts and spurts later, it quit altogether.
We decided right then and there that we would catch fish before we would leave! We used the new MinnKota motor, that we just got a week before, and slowly maneuvered to the closest point. We started catching some real nice hybrids, and some largemouth, and really starting to develop a pattern for that area, and the trolling motor short circuited, and smoke came out! It was completely broken.
We paddled the bass boat back to the marina where we were staying and told him what happened. The tournament was out, and so was going more than 100 yards now, but he said I'll give you my trolling motor so you can still go." We thanked him, and went to the dock where he said it was. It was a transom mount motor with about 28 pounds of thrust! Not exactly standard fare on Table rock or Bull Schoals in March, with a Nitro. But we were determined. We went out to the point where we were the day before, started catching some more fish, and the trolling motor he lent us broke. Not only did it break, but it actually broke at the shaft, it was a mess! We paid for the trolling motor, checked out of the cabin, (as it started to snow again), and started the 15 hour drive back home. We had fished for about 2 hours, in 13 days! We stopped at a motel on the way back, and my brother said, "I'll bet there's somebody in there that can fix a motor" "look at all the boats in the lot." We pulled in and in the lot after we registered, two older gentlemen were standing out by their rooms talking and my brother said "Do you guys know anything about boat motors?'. The guy says " DO I!", I've fixed motors my whole life" Hey Joe, he says to his friend, "I'll bet I can fix this guys motor faster than you!", his friend and he came over, took off the motor cover, and had it running in less than 10 minutes. We were dumbfounded and overjoyed at the same time. We couldn't thank them enough, and you could tell they were enjoying doing it. I was so excited, I jumped off the bow to the concrete, and broke my ankle.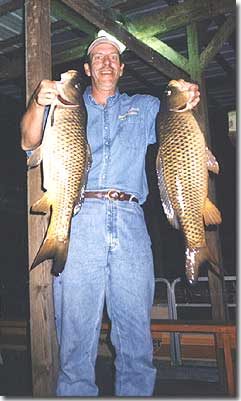 Many hours later, after the hospital, we went out again, determined to fish somewhere and catch something at this point. We put in the boat, and started flipping the docks with a jig. I hooked into what felt like the World Record Bass on the second flip. It pulled so hard, I was shaking, a few minutes later I landed my 20 pound carp!
After a few few choice words, I started to laugh and so did my brother Kurt. We composed ourselves and started casting around the docks again. A few minutes later, he set the hook on a monster. A beautiful 25 pound Carp! We loaded the boat, and headed back home. Sometimes it's just time to quit. We went to these lakes and had many great experiences in the Midwest after that. My brother even won a tournament or two, and he was the Big Bass World Champ/DE in 1999 and 2001, and has since finished high in many Redman and BFL events, but that one week in March of 1998, was one of those ones that you never forget.
--------------------------------------------
Steve and Kurt vonBrandt/S&K Guide Service/Professional Bass Guides
Bearpaws/Yamamoto Baits/Link's Marine
S&K Trophy Bass Site
1998, 99, and 2001 Big Bass World Champs/De
Redman/BFL regional qualifiers
N.A.F.C. "Hall Of Fame"
www.skguideservice.com